Burglary Repairs by ASL





If your home or business premises have been broken into and you require them to be secured immediately, please phone us:





020 7722 1525



We can repair any damage caused to door or frame, if necessary we can replace the door or frame straight away with one of our high security hardwood doors and frame, as shown below with all the necessary equipment. If required, we can make an exact copy of your original door.



Any burglary damage is normally covered by your building insurance - all insurance work welcomed.









Solid Hardwood Security Doors
These are the most popular doors we supply and fit. They are British Standard half hour fire check - thickness 44mm.
ASL doors are supplied with all the necessary security features. Panelled doors look attractive but are weaker and less secure. Therefore we do not fit them, but instead supply doors with beading to simulate the panelled appearance.

How secure is your door?

All of our security doors are fitted as standard with three locks.

- One is a high security rim lock near the centre of the door.
- Above and below this we fit two high security mortice deadlocks with hookbolts and lockguards.
All locks work on the same registered security key and the door is hung on three stainless steel butt-hinges. A pair of hingebolts and a doorviewer are also standard as well as a letterbox if required.
London and Birmingham Bars strengthen the wooden door frame to resist "kick in" type attack and forced entry. See right for a detailed explanation.
Disposal of your old door and frame is part of the standard service.
Premium Wooden Door
This is our premium wooden door with a steel plate at the front, wooden panelling and three locks as described above.
A strong, steel reinforced entry door is an important security measure for your property. It is desirable that a door is aethetically pleasing, but it is vital that it must also be secure against attempts at forced entry, and fire.
We recommend that you opt for a security door that is laminated with a solid core hardwood centre that adds to the overall mass of the door. These are available from ASL and can have mouldings to give a panelled effect. Quality hardwood doors from ASL are fire resistant and have a 30 minute fire check rating.


If you need a burglary repair today in the Greater London area, we are able to provide one of our master carpenters to carry out a same day door replacement or frame replacement or any repairs required. We can be with you in 15 minutes.

Call us out now!
Any burglary damage is normally covered by your building insurance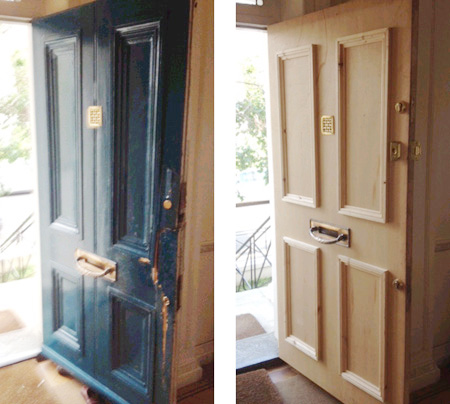 Above, on the left, is the original door after a burglary. Note how the wooden door has been smashed around the lock.


On the right is the replacement hardwood door which ASL installed, showing how we built a door which closely resembled the original door, but was far stronger, laminated with a solid core hardwood centre that adds to the overall mass of the door, and also offering fire resistance to 30 minutes.


We can match the look of the original door by installing beading to give the impression of panels, while retaining the strength of an integral solid-core hardwood door (whith a steel plate if desired, from our premium range, see below), rather than the structural compromise of building a weaker door with thinner inset panels. We can customise the design and include customised door furniture, and we offer the security of three locks.
Premium Wooden Door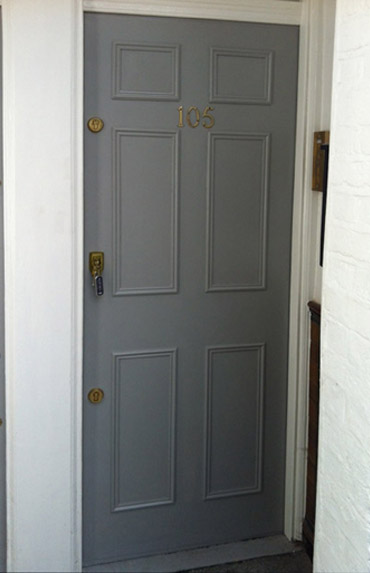 Doors may also be painted to any desired colour: